RSRS has assembled some sound advice from experts in the financial and legal fields geared to you, the physician. The following is an excerpt from RSRS' new guide: "Getting Ready to Retire: Financial and Estate Considerations for Retiring Canadian Physicians."
---
After retirement, should a doctor maintain life/disability insurance? Critical illness/long term care insurance?
Disability insurance provides protection while you are working so that if you are no longer able to work for a prolonged period due to a specific condition or accident, you will still receive a steady income through disability payments. Life insurance is put in place to provide a one-time lump-sum payment to your beneficiary upon your death. Sometimes, that lump-sum payment is intended to be used by the recipient to pay off a mortgage or business loan, provide funds that can pay for children's post-secondary education, or to provide financial support to the widow(er) and allow him/her to maintain his/her current lifestyle even though there will now be considerably less income being generated by the family as a whole.
In retirement, the need for disability insurance and life insurance is greatly diminished. For example, there may no longer be a mortgage and the children may be finished with post-secondary education. Also, as one ages, term life insurance becomes increasingly more expensive. At some point, the cost may outweigh the benefit.
If you think that you will not have enough funds to pay for extra care in the event of a critical illness, you should consider purchasing either Critical Illness insurance or Long Term Care insurance. Critical Illness insurance will pay out a lump sum, whereas Long Term Care insurance pays out a monthly amount.
Critical Illness insurance can be used for anything including paying off a mortgage, whereas Long Term Care insurance can only be used for care-related items such as a Personal Support Worker or a long-term care facility.
---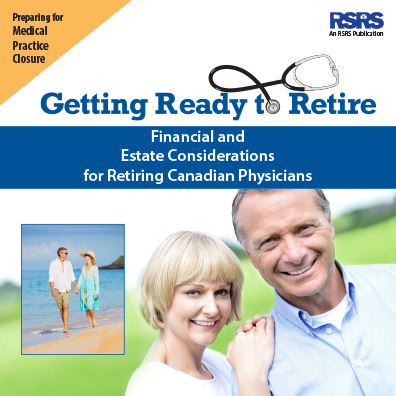 This information is excerpted from "Getting Ready to Retire: Financial and Estate Considerations for Retiring Canadian Physicians."  A physician contemplating retirement has a myriad of details to tend to, both professionally and personally. Prudent financial, estate and legal planning can make a big difference, both in the short and long terms.  If you'd like a printed version of this useful book mailed to you, call RSRS at 1-888-563-3732, Ext. 222 or get the free download now from https://www.recordsolutions.ca/guide.  There is no cost associated with obtaining this information.